latest version: 3.4
New website, new logo
Published: 13th of October, 2023
PhotoQt had various logos throughout the about 12 years of its existence. With the complete overhaul of PhotoQt based on Qt6, it gains its latest one, designed and contributed by @hadouken. In addition to the new logo, the new website sports a more modern look with the interface designed around the same colors as the logo.
The first logo
When PhotoQt first started back towards the end of 2011, PhotoQt, which back then was simply called Photo, lived on the (now seemingly defunct) qt-apps.org website and didn't have a logo. Its first logo appeared with version 0.6, contributed by Archie Arevalo who at the time at least was part of the PCLinuxOS team:

I'm very grateful to Archie and the PCLinuxOS team, because they were very supportive and kind to a young kid who liked to do some programming. They even did an interview with me fore their PCLinuxOS Magazine. It strange for me to think this was more than 10 years ago.
The second logo
Photo changed its name to PhotoQt with its v1.0 release, and along with this name change came another new logo: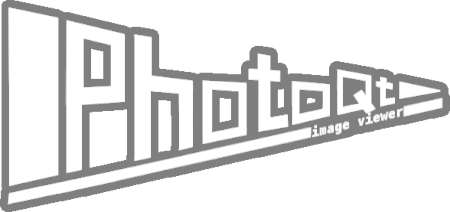 You might recognize the left most part of that logo, the P with the shape next to it. Up until (and including) v3.4 this was used as system tray icon for PhotoQt. This logo stuck around for all of the v1.x releases of PhotoQt.
The third logo
PhotoQt v2.0 once again marked a rather large change for PhotoQt. Starting with this release it was based on the second iteration of QtQuick. Along with this change also came a new logo, the third one by now: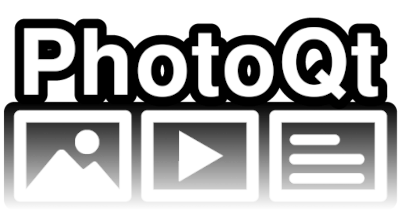 This logo was around for a total of 17 releases, more than any of the previous two logos. Even though I do like this logo, it is a little too busy and complex for some use cases.
The new logo
So, why does PhotoQt need a new logo once gain now? I believe it was time for a logo that not only is simple and stylish, but also expresses clearly what PhotoQt is, and one that is easily recognizable on first glance, both when shown in full and as small icon. The new logo achieves all of this: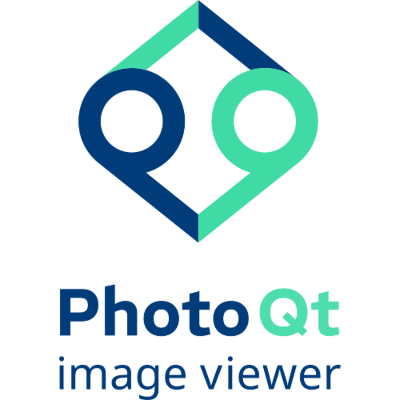 It is simple and stylish (I really like the incorporation of p and q in the pictoral part), it expresses clearly what PhotoQt is (it's an image viewer), it is easy to recognize the shape and colors, and it works both in large format and as small icon. This will be the logo PhotoQt will use for years to come. A big Thank You to @hadouken for designing it and offering it to PhotoQt!
What's next
The next release of PhotoQt is coming along very well, and I expect to have v4.0 ready before the end of the month. The new version is a complete rewrite in Qt6 (though it is reusing large parts of the old code base), with many improvements in how one interacts with the interface. It is just all around a smoother and better experience. I for one am really looking forward to it :-)
Enjoy PhotoQt,
Lukas